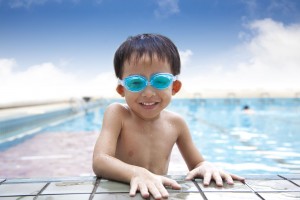 When you decided to participate in a triathlon event, there are likely many things that you took into consideration. How fit do I need to be to compete? What am I looking to get out of competing? A triathlon is all about speed and the ability to make the transitions from one event to the other as seamlessly as possible. In the swimming section of the race, knowing what gear will work for you is important. Here are a few tips to consider when you purchase your swimming gear.
Necessary Accessories
When you are in any type of race, making sure that you are as comfortable as possible is important. The swimming segment of your triathlon is no exception. Simple things like being able to see can make your race much smoother. Nobody wants to swim with a face full of hair. In order to have the best race possible, make sure to bring strong goggles and a hair cap, even with short hair.
Seconds matter in a triathlon, and the easier that you can get out of the water the better you will do. Make sure that you have the right accessories to help you shave off those precious seconds. A few moments in a race can make a big difference in the place you finish.
The Perfect Triathlon Swim Suit
Many leisurely swim suits are available for you, whether you are a man or a woman. It is not difficult to choose one of these; however, choosing swim gear for a triathlon is more difficult. For starters, your choices are much more limited.
For men, choosing pair of swim trunks or cargo shorts is a major mistake. These shorts will drag you down and keep you from doing your best. A full body suit, whether a wet suit over tri shorts or an trisuit is a much better choice.
The same rule goes for women because even a one-piece swimsuit will cause friction that a specialized swim outfit  will not. Choosing a suit that adheres to your body and reduces friction is always the best option, no matter your body type.
Where Will You Swim?
Knowing what kind of water you are racing in can change your suit choice. It depends if you're swimming in cold or warm water, a lake, the ocean, or a pool any of these places will affect your gear choices. Choosing an insulated wet suit or swim suit can affect how much energy you are burning. Cold water saps more stamina than warm. An ocean's salt water can eat at your suit choice. Keep these thoughts in mind when buying gear. Answer these questions for a better triathlon experience.