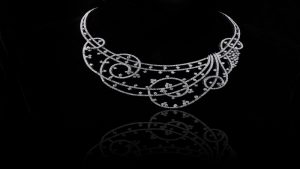 Your wedding day is a special memory you'll keep forever, celebrating every year the day you committed yourself to that special person you love. That special day should come with symbols, fun, emotion, and loved ones, to commemorate the great occasion.
One of the most important choices can be picking out designer diamond wedding bands. These are rings you will wear each day to represent the bond that you have with your new spouse, so you want them not only to be beautiful and stylish, but also able to withstand everyday wear and tear and remain long-lasting through the years.
Why Choose Custom?
Wedding rings are direct representations of you and your marriage, so why not make them unique to the two of you? Custom diamond rings can make the occasion feel even more special and help you remember all the reasons why this was the one person for you.
Whether one spouse picks them out or you do it together, the experience of choosing your own cut, color, and carat of diamond as well as the style of band you want can be just as satisfying as the wedding itself.
Styles of Custom Diamond Wedding Bands
Designer diamond wedding bands come in many different styles. The choices can be overwhelming, so it may help to discuss the options with your future or current spouse before you decide to take the leap so you know what you want to design.
Matching wedding rings: the traditional choice of two bands of the same style, metal, and diamond cut
Bridal set: both the wedding and engagement ring for the bride are included and match; some even can fit together to wear both for life
Types of precious metals such as platinum, gold, or sterling silver
Alternative metal rings such as titanium or stainless steel, especially for men's wedding bands
Princess, cushion, radiant, or asscher cut: more geometrically square-shaped diamonds
Oval, round, or heart cut
Pear or marquise cut
Emerald or baguette cut: rectangular-style diamonds
For more information, please visit Laura Powers Jewelry.