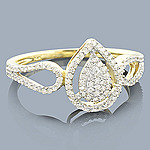 Jewelry design at online diamond stores is growing in popularity. Although many retail stores are adding design options, in-house inventory can limit the offerings. Designing jewelry online is a great way to express your individuality while having more options, the convenience and prices within your budget. These advantages make online diamond stores a popular choice for the design experience.
Variety of Options
Whether you revel in antiques or love a more contemporary selections, online jewelry design can give numerous options to fit your style. You can be creative not just with the actual design but also with the type of stone, type of metal, and setting.  A variety of precious stones are available to choose online.  Precious metal options can include silver, gold and platinum. Create your own unique design with stones in a variety of settings, or stone mountings, made from these precious metals. Jewelry customization is not limited to just rings. Jewelry such as necklaces, pendants, earrings, bracelets and watches are also design options. Such a variety of selections can give endless ideas for that perfect piece of jewelry.
Ease and Convenience
Many consumers enjoy the convenience of the online shopping experience. You can easily mix and match available choices simply by choosing the stone, the setting style and type of jewelry from your computer. No high pressure salespeople are involved. No traveling through traffic or across town necessary. The final customized product can be delivered right to your door. Most online stores also offer customer service. Utilize this feature to answer questions during your design process. If your knowledge of stones, metals or settings is limited, this resource can be very helpful.
Price Advantages
Shoppers turn to shops offering online jewelry design because of the price advantage. Price is definitely a consideration when working within a particular range. The savvy consumer can customize a beautiful fine jewelry design within their budget needs. Price preparation will make your online jewelry design experience as flawless as the jewelry you wish to create. Decide your price range in the beginning of the process. The stones or metals and settings you choose might also depend on this range. Knowing this in advance will help avoid the heartbreak of designing the perfect piece that is actually way beyond your budget. There is the added benefit of savings from online diamond stores compared to retail stores. Many of the retail overhead savings such as store space or staffing are often passed along to the consumer.
For the best design experience, be sure to purchase from a reputable online diamond store site. Check how long the company has been in business, if there is also a storefront, what shipping methods they use (it must be fully insured, with signature confirmation). As the trends in jewelry design experience shift more online, options will continue to expand for the consumer.