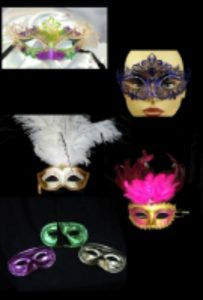 We've talked about Mardi Gras beads, masks, colors, and Zulu coconuts here at your favorite Mardi Gras supply store – but there are quite a few other famous traditions that make Mardi Gras so much fun. Here are four more of those traditions, and some of the history behind them.
Mardi Gras Krewes
A Mardi Gras krewe is just what it sounds like – a group of people who are all about Mardi Gras! These are often secret societies that spend the year planning out the various balls and parades that will happen at the next Mardi Gras. Getting into a krewe is tough! These very exclusive groups started way back in the 1850s when the very first secret society called the Mistick Krewe of Comus held a small parade. Now there are many krewes and each throw different events during Mardi Gras.
Mardi Gras Balls
Every krewe hosts its own ball during Mardi Gras, and this can be very lavish. These were also exclusive events when they began in the 1800s – you could only get in with an invitation! Now you can usually buy a ticket to most of the Mardi Gras balls.
King Cake
Everyone knows that King Cake is a Mardi Gras must, but do you know why? King Cakes are small coffee cakes that are decorated in Mardi Gras colors and come with a small plastic baby inside the cake. When you cut the cake up for your guests, whoever gets the slice with the baby is the "King" for the day – but they also have to buy the next round of cake! Because Mardi Gras tradition is rooted in royalty, the King Cake is a way to celebrate that history.
Parade Floats
Finally, the iconic Mardi Gras parade float is something that has made this celebration unmistakable. Created with ornate displays, lights, sound, huge sculptures, and so much more, the floats are always something that makes the crowd stop and stare. But did you know that the original Mardi Gras floats where simply horse-drawn carriages with a decorative banner on the side? These were called Flambeaux because they were accompanied by men carrying torches to light the way. The celebration has come a long way since then!
At Mardi Gras Beads for Less, we have everything you need to get ready for the big day. Stop by our Mardi Gras supply store today!